Brand persona is a term that's gained recognition in the digital marketing world over the last several years. Maybe you've heard of it, but if you haven't, fear not! I'm going to explain what brand personas are, why they're valuable, and how to establish yours in order to elevate your brand.
What is a Brand Persona?
Well, it's exactly what it sounds like! A brand persona is the embodiment of a company's brand in the form of a persona. It's the attitude, the voice, the qualities which highlight the personality you want your brand to be associated with. If your brand was a walking, talking, living, breathing human, what would it look like? How would your brand carry itself? How would it speak, and what would it say?
Look. I know what you're probably thinking.
Is this crazy lady really saying I should develop a character based on my brand?
The answer is yes! I know it sounds silly, but developing a brand persona is a necessary component of your overall brand strategy.
With that being said, it's important to note that your brand persona doesn't have to be a literal person- though sometimes that works! (Shout out to Flo from Progressive!)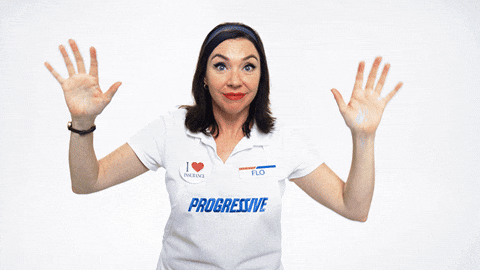 Brand personas can simply be an idea.
Why does my brand need a persona?
Let's start with a statistic. 90% of US marketing leaders say brand persona is key to retaining customers.
You see, today's consumer has a unique purpose when making a purchase. Sure, they want high-quality, budget-friendly items. That's nothing new. But, now more than ever, they also want an emotional connection, a sense of belonging, an array of options, and a full-blown experience.
A dedicated brand persona will allow your brand to shine in an increasingly emotional and visual world.
How do I create a brand persona?
Know Your Brand
Review your brand materials. Look over everything from your website to promotional items, and take note of what's working and what's not.
Do some research. Visit your favorite social media platforms to see what's trending in relation to your brand.
Make lists. List descriptive words that you want to be associated with your brand.
Know Your Customer
Examine your customer demographics, and attempt to understand who they are.
Define your customers' pain points and expectations.
Analyze your customer engagement.
Brand Persona Tips
Aaron Walter, the author of Designing for Emotion, provides excellent advice on creating a successful brand persona. His provides a list of elements that are helpful to consider as you define your brand persona.
Create a personality image. How would you visualize your persona? Is it a person, an animal, or another object?
Describe your brand's voice, and provide examples of copy. Would your brand's voice be cheerful, sarcastic, encouraging, something else?
Describe how your persona engages with others. Is your brand a buddy or more of an authority figure?
Create a style guide that includes fonts, colors, and images that match your desired brand persona.

5 Brand Personas to Use for Inspiration
When it comes to brand personas, one size does not fit all. However, if you're new to this, look to these personas for inspiration.
The Nurturer: Empathetic and kind, this brand is full of compassion and care.
The Intellect: This persona is a leader and influencer who helps users make decisions based on the facts.
The Cheerleader: Spirited and optimistic, this brand's excitement is infectious!
The Athlete: This confident and competitive brand is a little rough around the edges.
The Class Act: This elite brand radiates elegance and style.
Conclusion
You want to establish lasting connections between your brand and your customers, so if you haven't already, the time to intentionally develop a brand persona is now. Without one, personality will still come out of what you do, but it might not convey the vibes you want.
A solid brand persona can take your business to the next level. Your customers want to know what you're about, so they can be about it, too. The most important thing to keep in mind when developing your persona is that it embodies what you want customers to think about when they interact with your company.
If you're not sure where to start or need a little extra guidance, reach out to us! We'll work with you to create an authentic brand persona that will resonate with your customers for years to come.